Parley Design Co. - Phillip Baucom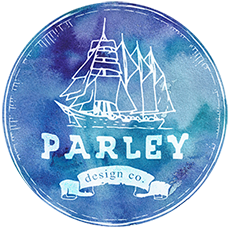 Phillip Baucom was already doing graphic design on the side for various people and organizations as an individual for years when he decided he needed to consolidate and market his work as a legitimate business instead of being known as "That guy, Phil, that designs stuff for people sometimes."
He says he started Parley Design Co. to make his community better - "Design is something I love doing, and it's one of the things I can offer to my home, Stanly County, to make it a better place to live and work. I felt I could help create memorable logos and efficient and beautiful marketing for businesses and organizations just getting started, as well as those who have been around for a long time and simply need to 'rebrand' with a fresh start. I wanted to use one of my giftings to better the place my family calls home. Better design makes for a better business, and better business makes for a better community."
Phillip noted that the Small Business Center had been influential in his company's success; he stated, "I knew what I desired to accomplish as a business, but had long been intimidated away from getting started by all of the red tape and legal aspects I thought I needed to create a business. The SBC helped me realize that launching a legitimate business was much easier than I thought. They helped me through all of the necessary steps and got me up and running in no time."
Parley Design Co. offers a number of design services including logo design, social media marketing and graphics, creative consulting digital and printed material, and printing services.
Parley Design Co. | Parley.Design@gmail.com | Website facebook.com/parleydesign