Stanly Adult Care Center Inc. - Sandy Carelock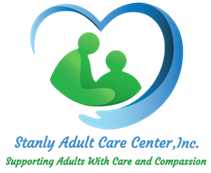 Entrepreneurship is about finding solutions to needs in your community. Sandy Carelock and the Stanly Adult Care Center Inc. Board of Directors have created an outstanding solution to a substantial need in Stanly County. With thousands of residents over 65 years of age, an increasing number of them will require some level of care or assistance to continue living at home. Stanly County currently does not have a facility providing daytime-only healthcare services for these seniors and their families. Upon completion of its renovated space, Stanly Adult Care Center Inc. will provide quality health and respite care in a safe environment for older adults during daytime hours each weekday. Meals, medication assistance, entertainment, and more will be available to participants. This allows the participants' family members to continue working, which is beneficial for them and their employers. Stanly Adult Care Center Inc. offers solutions to multiple needs in our community.
Entrepreneurship is about perseverance. Among their other qualities, Sandy Carelock and the Stanly Adult Care Center Inc. Board of Directors have proven to be persistent. When their initial plans and partnerships quickly and unexpectedly changed (which they often do with start-ups), they responded with swift decisions and wise actions. They created their own legal entity and submitted state and national documents for their business creation, tax exempt-status, and licensing requirements. They worked with their contractor on renovation plans and worked through inspection processes with local authorities like the Fire Marshal, Health Department, and City Planning Department, as well as state-level agencies that enforce healthcare standards. Additional evidence of their persistent spirit is that much of their early work was accomplished during Covid-related restrictions and supply chain issues.
Entrepreneurship is about learning and expanding your capabilities. While Ms. Carelock has 35 years of healthcare experience and some of the current Board members have worked in health and community fields prior to this endeavor, their time pursuing the opening of the Center has been an ongoing learning experience. From challenging their initial expectations to creating their own local Board to educating themselves about emergency exit requirements, insurance costs, and staffing expectations, their horizons have been expanded, their knowledge has grown, and their capabilities have increased. Hours, days, and weeks have been spent reading information, raising funds, visiting other facilities, talking with politicians, taking classes, meeting with potential participants and their families, designing, redesigning, deciding, and redeciding about next steps. Each learning experience opened a new door which, in turn, provided them with an additional skill to master.
Entrepreneurship is about community. In every way, Sandy Carelock and the Stanly Adult Care Center Inc. Board are examples of entrepreneurship that have little to do with them individually and everything to do with their persistent effort to grow in their common knowledge and capabilities so they can create an impactful, long-term solution to a significant and growing need in our community.