Coronavirus Disease 2019 (COVID-19)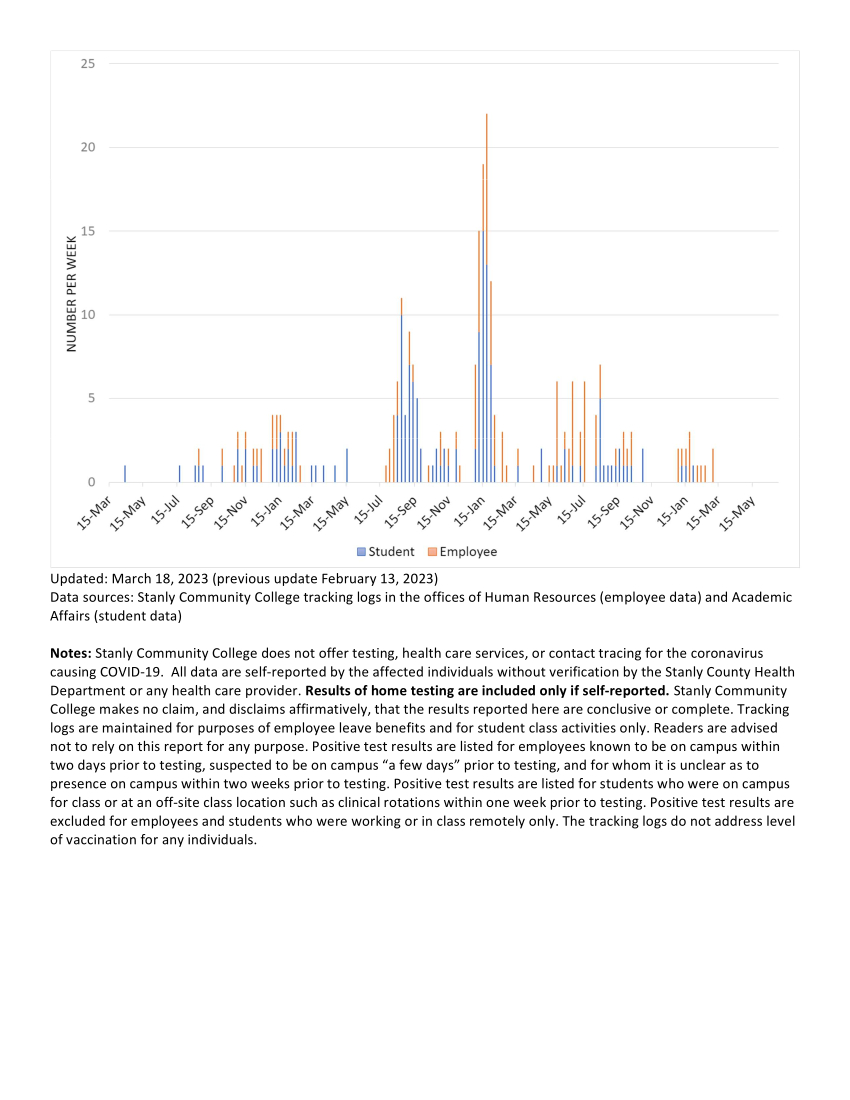 covidresponse@stanly.edu is the email address for COVID-19 related questions or to report exposures and positive test results.
Effective March 2, 2022, masks are optional for students, faculty, and staff. Faculty have the discretion to require masks in instructional settings where physical distancing is not possible. Although we will continue to monitor the situation, SCC expects this to be in effect for the remainder of the semester.
The use of a mask is now required of faculty, staff, and students, regardless of vaccination status due to the rise is percent positive cases in Stanly County.
Please be aware of the CDC symptoms to be aware of and please adhere to the COVID protocols if experiencing these symptoms.
Watch for Symptoms
People with COVID-19 have had a wide range of symptoms reported – ranging from mild symptoms to severe illness. Symptoms may appear 2-14 days after exposure to the virus. Anyone can have mild to severe symptoms. People with these symptoms may have COVID-19:
Fever or chills

Cough

Shortness of breath or difficulty breathing

Fatigue

Muscle or body aches

Headache

New loss of taste or smell

Sore throat

Congestion or runny nose

Nausea or vomiting

Diarrhea
This list does not include all possible symptoms. CDC will continue to update this list as we learn more about COVID-19. Older adults and people who have severe underlying medical conditions like heart or lung disease or diabetes seem to be at higher risk for developing more serious complications from COVID-19 illness.
Vaccine strongly encouraged

Masks recommended for all employees and students regardless of vaccine status
Maintain 6 foot social distancing

Continue to follow CDC and NCDHHS guidelines
SCC resumes more normal on campus operations
The Hyflex instructional methodology will continue, with academic departments having discretion over its use to ensure student success
Standardized, consistent operating hours for Bookstore, Business Office, and Eagle's One-Stop

Monday through Thursday – 8:30AM to 5:30PM (beginning July 6)
Fridays 8:30AM to 4:00PM

On-campus events now permitted following established guidelines (social distancing, masks)
Use Standard Hygiene Practice
---
Washing hands often with soap and water for 20 seconds.
---
Using an alcohol-based hand sanitizer if soap and water are not readily available.
---
Staying home when you are sick. If you become sick, call your medical provider for guidance before you go to a medical office.
---
Covering the nose and mouth with elbow or a tissue when coughing or sneezing.
---
Avoiding touching eyes, nose, and mouth.