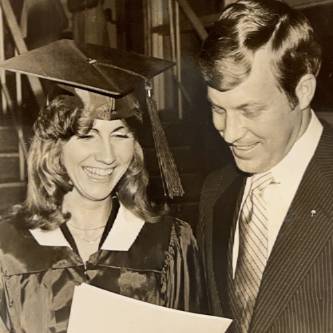 In July 1971, State Senator Frank. H. Patterson and House Representative Richard Lane Brown, III, guided legislation through the North Carolina General Assembly to create Stanly Technical Institute. Now, more than 50 years later, Stanly Community College (SCC) sits on a beautiful multi-acre campus that includes impressive, state-of-the art facilities. In 2003, SCC expanded its campus with the construction of the Crutchfield Education Center, a 33,000 square-foot facility home to Allied Health programs and the highly-recognized Carolina Auction Academy.
When SCC first opened its doors, Dr. Charles H. Byrd was president. During his 18-year tenure, SCC offered 24 technical, six vocational, two certificates and one general education program. During this time, the college also began its first full-time evening program designed to help working students continue their education.
In May 2022 Richard Lane Brown, III, passed away. It was his vision, and that of Frank Patterson, who turned the dream of Stanly Community College into a reality. In his last remarks about SCC he said:
"SCC has turned into one of the finest institutions in the North Carolina Community College System. Fifty years from now, at the centennial of Stanly Community College, another generation will have taken the reins and there will be a different board of trustees, but the mission for this College will remain unchanged from its original mandate. With continued state and local support, I foresee another half-century of measured steady program."
Dr. John D. Enamait was named President of SCC in 2016. Today, he leads a faculty and staff of almost 400 and keeps the College on the cutting-edge of advancement in the education of community college students.
Accredited by the Southern Association of Colleges and Schools Commission on Colleges (SACSCOC), SCC is proud of its ranking as the #1 Best Community College In North Carolina in 2021. SCC confers more than 500 degrees and credentials with the top five degrees in: Associate in Arts, Associate in Science, Early Childhood Education, Criminal Justice Technology and Associate Degree in Nursing.
SCC also continues to support the state's economic workforce development objectives designed to strengthen the availability of skilled labor in North Carolina. SCC's dedication to supporting this effort is critical to the success of our state's ability to attract and maintain new and expanding businesses.